ABOUT SEMBA CENTER BUILDING
More Than 800 Stores and Restaurants, Big Shopping Mall.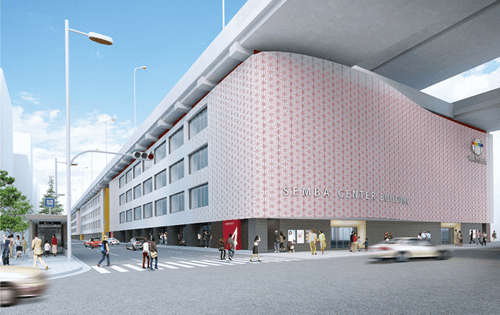 Semba Center Building is a commercial facility located in the heart of Osaka at Semba, in the central Chuo-ward of the city. The Semba area has always been an area of prosperity and a commercial center with a long and rich history dating back to the establishment of Osaka. This particular building, completed in 1970, was intended to serve as the backbone for the numerous textile wholesalers traditionally associated with this area and to that end it has become known as both the major symbol and icon of the Semba area and one of the famous commercial faces of Osaka. The building is a rectangular shape that stretches approx. 1,000 m from east to west and retains a unique structure that is integrated neatly under the elevated highway above. There are around 800 stores operating in the building.
Originally textile wholesalers used to be the principal proprietors of the commercial space throughout the building and nowadays their presence has been joined by a large number of retail stores, each offering various domestic and foreign products on sale to everyone. Many stores do, of course, continue to offer textile related products like Japanese Kimonos and Western clothes, but also increasingly accessories shops offering jewels, watches, shoes, and bags can be found too. In the present day Semba Center Building you can certainly enjoy a different and arguably better shopping experience compared to other stores and shopping malls in the city due to both the inexpensive prices and the depth of variety of merchandise offered by the many specialist stores.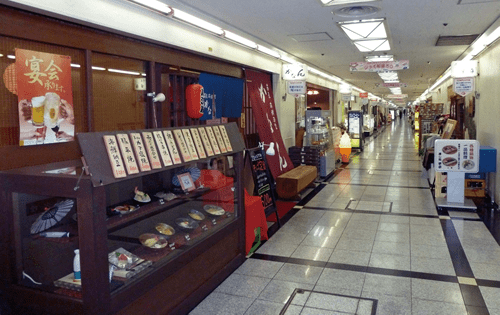 A rich variety of restaurants and cafes — offering Japanese sushi & noodles and Asian and western foods too — await you in the underground restaurant area and allow you to sample and enjoy at first hand the various tastes associated with Osaka, a city famous for its simple culinary delights!
Access to subway stations is both simple and convenient since many are directly connected to the building. The building is also located close to both the major hubs of Namba and Umeda, which are both a short subway ride away.

Stretching from 1 Chome to 4 Chome Semba, Chuo-ku, Osaka city, Osaka prefecture (From the east, No. 1~10 building)
■ Regular business hours (Business hours may differ at each store/restaurant)

Office/Store 9:00~18:00
Restaurants 9:00~22:00

Third Sunday of every month.
August 13-15.
December 30 – January 3.